X-Large

See

what fits!

12.5' x 25' Unit

Drive Up
Mint Hill Self Storage is helping you find friendly locations in areas we do not serve.
The following facilities are NOT associated with Mint Hill Self Storage Storage! Terms and Conditions.
Today's Online Special Deal
PAY 1ST MONTH, GET 2ND MONTH FREE
Office Hours
MON - FRI
9:30am - 6pm
SAT
8am - 4:30pm
SUN
Closed
Gate Hours
Closed for lunch from 2:00-2:30 M-F and 1:00-1:30 Saturday.
Storage Customer Reviews
Storage Facility Amenities

16

Amenities
24 Hour Cameras

Boxes & Supplies

Climate Control

Commercial Storage

Delivery Acceptance

Drive-up Access

EZ Access

EZ Drive In

EZ Drive Thru

Gated Entry

Interior Hallway

On-site Management

Online Bill Pay

RV, Car, Boat

Roll Up Doors

Tenant Insurance Available
Storage in San Antonio, TX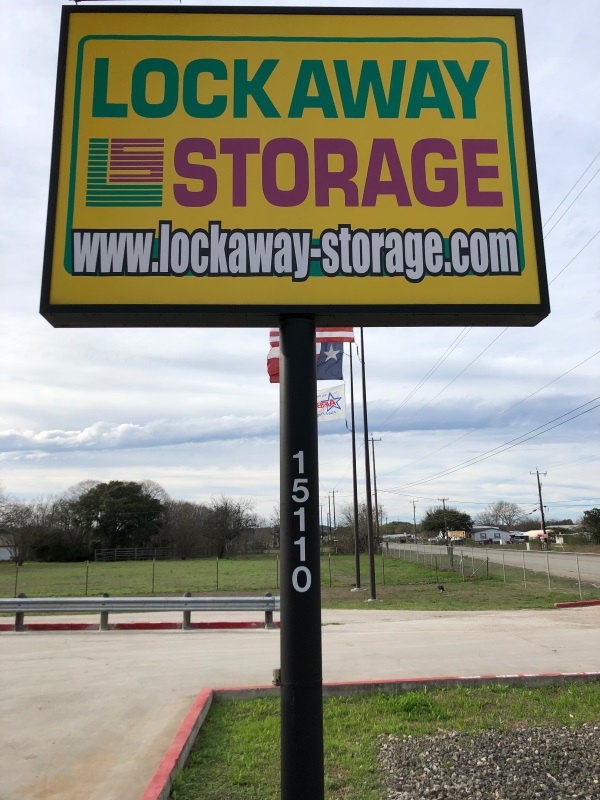 Have you ever decided to place your house on the market and then realized it needed to be simplified and staged for potential buyers? Self Storage is a great option! The stress can be overwhelming, but fear not! With Lockaway Storage let feelings of relief sweep in because you have come to the right place!
Today, in the competitive real estate market, many experts suggest simplifying your home and giving it a clean, sterile look before listing it on the market. Easier said than done, right? Lockaway Storage on Farm to Market 471 in San Antonio, Texas is the solution to your self storage needs.
From downtown San Antonio, we are located westbound on US-90. If you take Exit 153 toward Del Rio, keep right and take TX-151 toward Sea World and you're almost there! Continue on to Alamo Ranch Pkwy and simply take a left at Culebra Rd/FM-471. You may think you are in the Texas wilderness, but we assure you we serve the storage needs of Mico, Rio Medina, The Far West Side, and Helotes. With parking spaces for rent, we are an ideal spot for boats, RVs, trailers, and commercial trucks! Our secure facility and southern hospitality will give you the experience you are looking for when storing personal or business items. Hassle-free, we guarantee the best customer service this side of the Canyon State Natural Area!
Self Storage off Alamo Ranch Pkwy
Since this facility is situated on the outskirts of San Antonio, the majority of the area surrounding the facility is made up of open land, but not too far from Wind Gate Ranch. In general, storing items in a facility that is in a quieter area provides customers with privacy and added security due to reduced foot traffic. Our facility isn't out of the way by any means, but it is free of heavy traffic. Find us near Falcon Landing with convenient proximity to Lackland AFB, Port San Antonio, the University of Texas at San Antonio and Northwest Vista College. Craving good ole' fashioned Texas cook'in? We're close to Stump's Steak House Grill where you'll never leave hungry.
Amenities
The list of conveniences at Lockaway Storage on FM 471 is endless. We offer customers the best selection of unit sizes, from 5' x 5' to 10' x 20', with some variations in layouts. Of course, if you're unsure of what will fit in one of our units, simply go to our website and check out our tutorials.
Kind and helpful team members are also ready onsite to help you decide on storage options. Do you need an easy roll-up door with drive up access? The majority of our storage units are EZ Access drive-up accessible, and many are accessed through an interior drive-thru. Check out our 15' x 25' to 10' x 50' units for larger items. All of our units at this facility are on the first floor. If an indoor space for your vehicle is not needed, we've got 15' and 20' parking spaces available that are surrounded by a fence for extra protection.
Climate-controlled and non-climate-controlled storage units make this facility appropriate for any type of item in need of a temporary home. Storing items in a climate controlled environment protects items with fabric or leather coverings, as well as wood, metal, and plastic items. We feature keypad entry to our facility gate. Once inside, you'll notice a very clean, well-lit, well-maintained, and secure storage facility. For added reassurance when it comes to security, we have cameras throughout the storage property that are monitored directly from the office. These record 24 hours a day, seven days a week.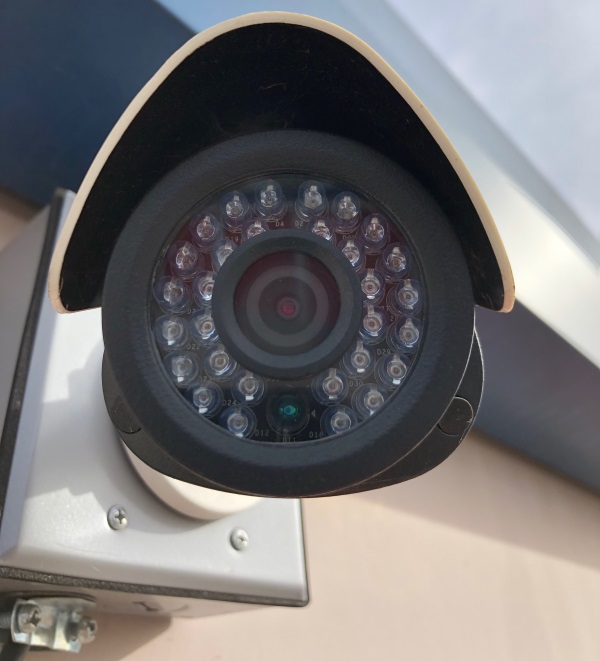 If you own a small business and need a commercial unit to store deliveries, we accept deliveries during our flexible office hours, Monday-Friday 9:30 a.m. to 6 p.m. and Saturdays 8 a.m. to 4:30 p.m. Our gate hours are open longer than many of our competitors. For your convenience, access your items between 6 a.m. and 10 p.m. daily. Our professional and friendly staff will help you choose the storage unit type and size that will best fit your needs, not to mention the packing and moving supplies that will protect your belongings long into the future. We look forward to meeting you and having you as a valued customer. Store with us and you will be glad you did!
Lockaway Storage FM 471 is your one-stop-shop for all of your moving and storage needs. Nothing is worse than finding broken items after a move! Avoid the stress and protect your items with our useful packing materials. We offer a variety of sturdy boxes and other moving supplies right on site. On top of that, you won't find a more helpful and kind staff to help you with tough decisions on storage! Lockaway Storage is your go-to for immediate moving needs!
In need of small, medium, large, or extra large boxes? We have a vast supply of those along with wardrobe boxes with wardrobe bars. We also carry twin, full, queen, and king sized mattress bags, along with sofa covers, chair covers, dust covers, bubble wrap, wrapping paper, and shrink wrap. If you need anything to help you move, we probably have it! Feel free to ask the Manager and we will help you find what you're looking for.
Military Self Storage
Supporting our US military members and their families every day is a top priority for our company. We seek to make life just a little easier for those in transition. Current soldiers serving at Joint Base San Antonio, Fort Sam Houston, Lackland Air Force Base, and Randolph Air Force Base are all welcome to give your property a temporary home here at Lockaway Storage. We understand you may have traveled here for just a short time and maybe aren't residing in a place with much space.
Lockaway Storage is the perfect place to keep your belongings safe while you serve. Those who have deployment orders, you can rest assured we'll protect your valuables while you're gone for as long as you need us to. Peace of mind is necessary while you're away, and we do our best to give that reassurance to you. All active and reserve members of the United States Armed Forces also receive a 10% discount on all Lockaway Storage facilities as a thank you for your Military service. Make sure to mention this discount when you speak with your facility Manager. Some restrictions may apply. Speak with a Manager for details.
Boat and RV Storage/Parking
Are you a lover of outdoor sports but need to head to the office every now and then? We get it. Motorcycles, jet-skis, ATVs, and buggies all need a rest now and then, so if you're out west of San Antonio riding, drop off your off-road vehicle on the way back into the city.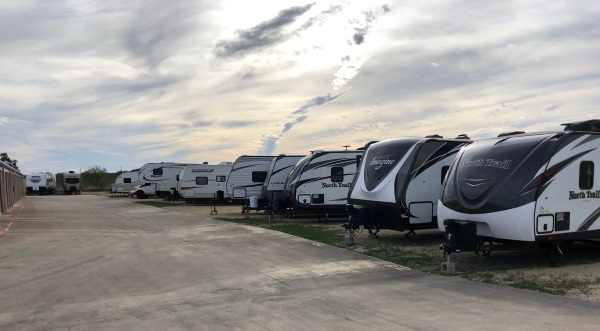 If you seek adventure, but don't have space in the garage or shed, we are here to help! Boats, RVs, and other luxury vehicles exist to thrill, excite, and bring joy to their owners. However, when the ride comes to an end, finding a place to store your prized toys until you're ready to use them next can be a headache. For that reason, and so many more, Lockaway Storage is the perfect solution. Our self storage units are great for keeping smaller vehicles such as motorcycles, jet-skis, dune buggies, and other vehicles that will fit in a 10' x 20' unit or smaller. If your full-sized vehicle will fit into one of our self storage units, we highly recommend using them for parking to help maintain the interior and exterior of your vehicle during the hot Summer and cold Winter months. Keeping your vehicle out of the elements as much as possible is the best way to ensure that it is ready to be driven whenever you're up for a ride!
We also offer budget-friendly outdoor parking for larger vehicles such as boats and RVs. For those vehicles that will be in one of our parking spaces, we recommend investing in a fitted cover to help protect against the elements.
Maybe you haven't made the decision to buy a luxury vehicle yet due to a lack of storage space? Don't wait any longer to fulfill that dream! Lockaway Self Storage on FM 471 has your back. Whether it's optimizing your current living space, staging for a move, or enduring a transition from one location to another, stop by the facility and chat with any one of our friendly Lockaway Storage professionals. We are always happy to guide you into the perfect self storage unit for your budget!
Happy 3-Year Anniversary to Chris Pruitt
Here at Lockaway Storage, we know our success is due to our wonderful team. The care they give our renters is unparalleled and we want to highlight their milestones along the way. Below is an interview with San Antonio team member Chris Pruitt, who is celebrating his 3-year anniversary with Lockaway Storage this week.
Chris is the manager at Lockaway Storage – FM 471.
Peter: So your work anniversary is coming up. Is it just one year?
Chris: Three years actually.
Peter: Whoa, three years is a long time in the self storage industry! How did you get started?
Chris: So, I was actually engaged at the time, and I needed a steadier job than what I had at the time. My fiance at the time was looking on Craigslist and found the ad. She recommended I try this out because it would be new and interesting. I sent in my resume and here I am now.
Peter: Three years later, you must like it pretty well?
Chris: Yes, everyone here is very nice and helpful. It has become like a family here, so I really enjoy that.
Peter: I've heard that from a lot of people in the company. Why does it feel like a family to you?
Chris: When you first start out, you get a call from Don Clauson welcoming you to the team. I know I personally got calls and emails from people I hadn't even met yet welcoming me to the team and just thanking me and also people from Killeen and all over. That was just the start. If you ever need help or don't know something. There are so many people who are just a phone call away who want to help you. We're not just like this at work either. We can talk about sports and hang out outside of work. It's not all work related and team members hang out after work hours. We also have baseball games that we all go to or hockey games that we're all invited to just to hang out and be a big family.
Peter: Man, I am jealous. That sounds like an incredibly fun and supportive environment to be in.
Chris: It is. It's very supportive and fun.
Peter: Three years is a long time. You've probably seen quite a few things. Do you have any stories or moments from your time in self storage?
Chris: Oh, my goodness. There are so many. Everybody's so different. My most memorable storage storage storage was when I first started out. Strat U hadn't been put into effect yet. I went through the basic training and then went to the store I would be assistant managing and I met the manager there and we worked together for a couple days and then he went to Scotland for the next couple weeks, so that was a great learning experience for me, because I had to learn very quickly.and be on top of my game. He was in Scotland and I was working all alone. This facility had almost a thousand units to deal with. Of course, if I had any questions there was someone I could go to. I could reach out to fellow team members and they would be willing to help me out. It happened to be incredibly busy, so I was renting units left and right, taking people out two at a time to rent units.
Peter: Wow, they really threw you in the deep end quick there.
Chris: Haha, yes. Some people would have been overwhelmed, but I saw it as a good learning experience, an opportunity to learn more and become a better person, I guess.
Peter: That's awesome. That's great. Sounds like you really rose to the occasion! And three years later you're still here.
Chris: True. They haven't gotten rid of me yet.
Peter: You're not always at the facility. Do you live in the area?
Chris: I actually live on site.
Peter: Oh, so you are always on site in a way.
Chris: Yes, in a way. I'm not restricted to being here 24/7, but it is nice living on site. Definitely has its perks. Added security for the tenants.
Peter: Oh, yeah. I'm sure the tenants appreciate it.
Chris: That's true, yes.
Peter: So outside of work do you have any hobbies?
Chris: Yes, so I am big on family. Most of my time is spent hanging out with my near 2-year-old and my wife just making memories. Aside from that, I enjoy going to Texas country concerts and watching the greats play like Merle Haggard, Willie Nelson and Garth Brooks. And I really enjoy sports, both playing and watching. That's actually how I met my wife, playing co-ed softball in San Marcos.
Peter: That way you know you have mutual interests.
Chris: Yeah, that's true, yeah.
Peter: So you said you had a two year old. What's your kiddo's name?
Chris: Her name is Pearl.
Peter: Oh, that is a beautiful name. Congratulations. Being a father is such an important job.
Chris: It is. It is such a blessing.
Peter: Most important job in the world for sure. Are there any restaurants in the area you like?
Chris: That is a good question. I have not explored San Antonio as much as I would like. I've been here going on a year, so I haven't explored down town as much. There is a place in Helotes called El Chaparral that is pretty tasty.
Peter: Is there anything I haven't asked about that you want to talk about?
Chris: What I've learned or what has become more apparent to me is that everyone is different and has their own personal story and comes from different backgrounds. They come in with different attitudes and needs. We're all different, but one of the things that connects us all is that we all want to be taken care of. When you take good care of others is when you build relationships with them and they become more than a name and a face. Once you've established that, work becomes so much more. It becomes more enjoyable when you get to really know a person and take good care of them.
Peter: Isn't that what it's all about, just being human and living life?
Chris: That's very true, yes.
Peter: Right on, man.
Chris: Yeah, everybody wants to be treated nicely. Which is part of Stratitude: treating others as they want to be treated. Which is very important.
Peter: Great. Is there anyone in the company you'd like to give a shout out?
Chris: Sure. I guess I'd like to give a shout out to all the team members I've gotten to meet, those who trained me, even those who I haven't met, so, I guess, everyone! And then a shout out to whoever's reading this!
Self Storage Milestone: Happy 4-Year Anniversary to Chris Pruitt!
Here at Lockaway Storage, we know our success is due to our wonderful team. The care they give our renters is unparalleled and we want to highlight their milestones along the way. Below is an interview with team member Chris Pruitt, who is celebrating his 4-year anniversary with Lockaway Storage.
Chris is the Professional Storage Manager at Lockaway Storage, FM 471 in San Antonio, TX.
Shannon: Which year anniversary is this?
Chris: This is my fourth year at Lockaway.
Shannon: Oh nice, congratulations! I guess we'll just jump right in then: How did you first get started with Lockaway Storage?
Chris: I got started because my wife and I were engaged at the time, and we were looking for a job that was going to be near where we were going to be living. She was searching on Craigslist and found the posting for me. So I applied, got hired on, and it's been memories ever since then!
Shannon: Very cool, that's awesome. So is being in self storage what you thought it would be?
Chris: I didn't expect the stories that I would gather, the memories I would make, the friendships that would be created, and the interesting people that I would encounter.
Shannon: Do you have any positive memories you would like to recount?
Chris: My favorite story is actually just the interactions I've had with tenants as a whole, the appreciation they show for our services. People have offered me six-packs of beer. They've offered to leave me tips. They've made me hand-made tamales. They've brought me gifts and invited my family to the lake. They've invited my family over for dinner. So it's just the appreciation that my tenants showed for me, that's one of my favorite parts of the job.
Shannon: Wow, that's awesome! It would be mine too if I were you! That's amazing. Do you have any advice for anyone who's thinking about working in self storage?
Chris: Just getting to know your tenants can go a long way. Because if you get to know them, you might have an experience similar to mine, like people offering these things, appreciating you. If you see a customer wearing a Dallas Cowboys hat, use that to talk about the Cowboys! Just find things to build trust between y'all, which helps the tenant feel safe and secure while their storing at your facility.
Shannon: Yeah, I think that building that sense of security and trust is important. What is your overall experience been like working with Lockaway Storage?
Chris: It's overall been an amazing experience so far. Just the people I get to work with in terms of team members. Most of them are just all very friendly and outgoing. Tenants as well. To hear their stories and whatnot. There's never a dull moment, so I enjoy that.
Shannon: I'm glad to hear that! Switching gears a little, is there any advice you would give to potential customers interested in renting their first storage unit?
Chris: I would mention to them to consider the location. Is it close to their home? What are you going to be storing as far as whether you'll be needing climate control or non-climate control? Check out the crime rate in the area and make sure you ask questions to the manager as far as security of the facility. Ask if the manager lives on site. Lockaway does an amazing job as far as security and customer service. Compared to our competitors, Lockaway's customer service goes above and beyond.
Shannon: Do you have an example of a time where you went above and beyond for a customer?
Chris: Well, I mean it happens day-to-day. I had a customer whose car battery died outside the office, so I went outside and offered to use my jumper cables and my car to help jumpstart their car so they could get back on the road and not have to call somebody to get towed. Someone had a flat tire before, so I went out there and helped them change their flat tire. Things like that are examples of going above and beyond as managers at Lockaway.
Shannon: Why do you think it's important for you and your team to step up like that?
Chris: It just helps. One of our "Strat Values" is strengthen our community. So it helps strengthen our community, and it helps build a stronger relationship with tenants. They know that we're looking out for them and we're not just sitting in the office just wanting to make a transaction and take their money. We really want to build a relationship with them and get to know them more.
---
"A great thing about Chris is that he keeps his store very organized. Because of that, he's been able to take on extra tasks that have really benefited the company. We really work with our past-due customers to avoid auctioning any of our units, but it sometimes is an unfortunate necessity. Chris recently helped Lockaway transition our storage auction process from in-person auctions to the online auction site StorageTreasures.com. He researched how the site worked and even wrote a step-by-step guide for our managers to use. Chris really stepped up and did a great job on this project."
-Jason Steitle, Education and Training Manager for Lockaway Storage
---
Shannon: That's fantastic. So we were talking about the importance of looking at a facility's security features and knowing what the area is like around the facility. Can you describe what the area or neighborhood is like around the FM 471 facility?
Chris: Right now, I am pretty much surrounded by fields.
Shannon: Haha, oh!
Chris: Yeah, there's not too much around me. But there are neighborhoods popping up left and right though, so it's just a matter of time before I'm surrounded by neighborhoods. But as of right now, I have fields to the left of me…
Shannon: Fields to the right…
Chris: Haha, yeah exactly!
Shannon: But hey, that's not a bad thing though! It's probably easier to hear people coming in and out of the facility, and to keep an eye on things without a bunch of distractions.
Chris: That is true. For security reasons it's nicer. I think it's nicer just because there's no houses where people can jump fence. The field is overgrown and there are cattle and deer.
Shannon: You would have to deal with the cows if you were on the run!
Chris: Right, haha. So that makes it less desirable for people to try to break in. I've never had any issues here thankfully.
Shannon: Sure that makes sense. So assuming you're not always at work, and hanging out with cattle across the street or things like that, what do you like to do when you're not working?
Chris: I am a big family person, so I really enjoy spending time with my wife and daughter. Whether that be hanging out at home or going to see our parents, or exploring San Antonio and going on adventures. I also enjoy going fishing. I find that very relaxing and peaceful.
Shannon: Do you have a favorite fishing spot?
Chris: I actually don't go fishing much here in San Antonio. I usually go to Austin, so I haven't really gone fishing down here.
Shannon: Right on. So I was just curious, how old is your daughter?
Chris: My daughter is two and a half, and she is a "Daddy's Girl".
Shannon: Haha how so?
Chris: I am her best friend. And, really it sounds corny, but she is my best friend too.
Shannon: That is so sweet! Do you guys have any daddy-daughter spots you like to go to?
Chris: We will go to Red Robin and eat there together; kick it in the booth. She'll eat her food, I'll eat mine, and she'll steal my food, haha! I am wrapped around her finger. When she asks me to do something it's hard to tell her no. Of course if it's something dangerous I'll say no, haha! Even watching T.V. she'll make sure she's snuggled up close to me, lie her head on my shoulder while we watch T.V. together. So yeah, I love the bond that we share together.
Shannon: That's really great. I guess once you have kids, that's really your world.
Chris: For sure.
Shannon: So back on track with Lockaway questions, do you have anyone you would like to give a shout out to in the company?
Chris: Sure. I have to give a shout out to Jason Steitle. He used to be my DM. When he was my DM, he was helpful in encouraging me to "run it like I own it" and just be the best possible manager that I could be. And I've also got to give a shout out to Thomas Nannen, who is my current DM, for continuing to encourage me to "run it like I own it" and not micromanage me or breathe down my neck. I really enjoy the way they manage their facilities and me. I can't leave out Don Clauson and Tristina. The way they treat their team members and represent the Strat values is admirable. Then I guess I have a shout out for Travis, even though he likes the Yankees. Last but not least, the people I get to talk to and work with every week. They make working so much more fun and enjoyable.
Shannon: Great! Man, you are just full of love for everybody!
Chris: Yes! Most people here have been a blessing to work with.
---
"Chris Pruitt is a pleasure to work with, because he takes initiative at his store and success has followed. His store's occupancy is quickly climbing and has gone from 69% in March to over 76% in May with over 1,500 net rented square feet this month! Chris is also a team player and is excelling in his role of Senior Team Member. In this role, he has been a great help to team members in need. Chris is very hands-on with issues at his facility, including recently wrangling a 4ft long snake that was attempting to stay rent-free!"
-Thomas Nannen, District Manager at Lockaway Storage
---